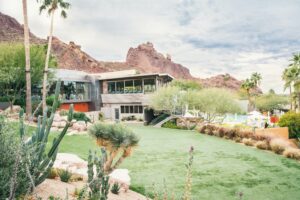 2022 started off with historically low interest rates and record high home sale prices in the Phoenix Valley. Prices peaked around the end of June, and since then, it has been a relatively steady and consistent decrease in both home sales volume and pricing. Although there are several factors that have contributed to this abrupt pivot in the housing market, most people seem to agree that the two biggest factors driving these changes are the sharp spike in interest rates along with a steady (and steep) increase in housing inventory.
According to the September STAT report from MLS, Phoenix area home sales volume is down 29.2% year-over-year when you look at September 2021 versus September 2022. Meanwhile, according to that same report, inventory levels sat at 22,617 homes for sale, a 93.3% increase over September 2021 inventory levels.
Rate Hikes Throttle Affordability:
Affordability for First-Time Home Buyers (and really anyone financing their mortgage) has been hammered by the quick increase in mortgage interest rates. We started 2022 in the low 3%'s for a 30-year fixed mortgage, but the average rates in late October climbed to well over 7% – highs the market has not seen in over 20 years! And we may not be at the peak just yet. The Fed is overwhelmingly expected to increase rates another 75 basis points in November to try to curb inflation, which could help push mortgage rates even higher before 2023.
To put into perspective the impact the rate hikes are having, let's look at an example. Let's break down the approximate monthly payment on a 30-year fixed mortgage for a $500,000 home assuming a 20% down (to avoid PMI) at 3% versus 7%. Figures below do NOT include property tax or homeowners insurance and are estimates:
AT 3% INTEREST RATE:
Approximate Monthly Payment: $1,686
AT 7% INTEREST RATE:
Approximate Monthly Payment: $2,661
Difference in Monthly Payment: $975
As you can see, the same $500,000 home now costs borrowers almost $1,000 per month more compared to early 2022. Think about that…almost $1,000 per month and a 57.83% increase in cost! The combination of high mortgage rates and record high home prices (not to mention overall inflation in the double digits in Phoenix) has finally caused the Phoenix housing market to peak. The results are less demand, fewer buyers in the market able to purchase a home, tentative active buyers that remain in the market (who now want a deal), and increased housing supply.
Supply and Demand:
For those Buyers purchasing a new build, many New Home Builders and landscaper companies have been passing along the increased materials costs they are incurring along to the end consumers. Buyers have been paying more for upgrades and backyard landscaping improvements as a result – further exasperating their financial pain (New Builds rarely include backyard landscape). However, with the increase in mortgage rates, some home builders have lost Buyers who were under contract because the Buyers can no longer qualify for their loan (and therefore many have been able to back out of their contracts). This has contributed to an uptick in quick-move in homes available now or in the near future for Home Builders. These properties cost builders a lot of money, and they have been slashing prices and offering big incentives to move these properties as fast as possible. Additionally, Builders are seeing less traffic and demand for new builds. According to the National Association of Home Builders, New Home Builder sentiment is down for 10 straight months as of October 2022, signaling that home builders on average expect more tough times ahead.
The resale market has seen homes sitting on the market for a much longer period of time. According to the September STAT report from MLS, the average days on market is now 48 days, compared to only 30 days in September 2021. Additionally, the same report shows average days on market has climbed 6 days higher than August 2022. The days of multiple offers are becoming few and far between. It is now the norm for Seller's to offer rate buy downs and concessions to Buyers in hopes of attracting an offer and keeping their home under contract until Close of Escrow. Many Buyers have been forced to either exit the home buying arena and rent for now, or significantly lower their purchase price threshold. Cash Buyers have seen an increased opportunity for negotiating power and are less affected by the rate hikes, however, many that I have spoken to are tentative about the overall economy and housing market, and some continue to stay on the sidelines in hope of further price decreases in the next 6-12 months.
Bright Spots:
While it may sound like all doom and gloom, there are some pockets of positive news in the Phoenix market. According to the September STAT report from MLS, the average home sales price was still up 7.4% year-over-year. Most homeowners who purchased in Phoenix at least 1 year ago or more still have sizeable equity in their homes, although the amount of equity is slowing shrinking. The number of home sales in Phoenix also saw a small increase of 3.1% from August 2022 to September 2022, thanks mostly in part to a surprise (and short) slight decrease in mortgage rates dipping under 5% briefly in early August (which have since climbed back up to over 7% and calmed demand). Sellers can still sell for strong amounts, but they should be prepared to be on the market for longer than earlier this year and realize they may need to be flexible on terms and possibly offer small incentives to Buyers to close a deal. Buyers have more leverage than they have had in the past 2 years, and they have an opportunity to pick up properties at a lower purchase price than earlier this year. However, Buyers need to be aware of the effects that rising mortgage rates are having on their monthly costs, and they must be careful not to take on more than they can handle. Consulting a good Realtor and Lender can help ensure you don't overextend yourself as a Buyer.
Conclusion:
According to the September STAT report from MLS, homes are selling for only 93.42% of their original list price on average. It has become more important than ever for Seller's to price their homes appropriately to avoid sitting on the market for an extended period of time and becoming stale. Buyers who see homes with a high number of days on market with consecutive price reductions are further encouraged to offer below list price, further eroding equity from Seller's pockets. Picking a competent and honest Real Estate Agent has never been more important for Sellers and Buyers. It's important as a Buyer to select a Realtor that is able to competently navigate this new housing market. The right Buyer's Agent can potentially save you thousands of dollars and protect you and your earnest money if you need to get out of a contract. It has probably never been more important to have representation as a Buyer with a New Builder as well. Always bring your Real Estate Agent with you on your first visit to a New Builder Community to avoid losing representation during the Buying process. Remember, The Sales Consultant of the Builder works exclusively for the Builder, your Real Estate Agent works for you and will help protect your best interests.
If you have been considering selling or buying, I would be happy to set up a time to go over your situation one-on-one and create a game plan to help guide you through the process. Please send me a text or email to get started. Curious about your home's value? Click the link below to get started!
Michael G. Huber
(928) 232-0777
Lake Pleasant Real Estate