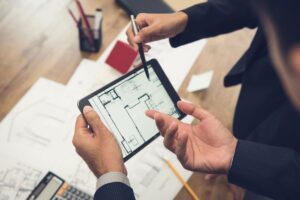 With the Phoenix Real Estate market suffering from a severe lack of home inventory to start 2021, many buyers in the valley are looking at new home builders as an option. And it makes sense. New home builders have purchased a lot of land in the Phoenix-Metro area, and there are a lot of new home communities in all parts of the valley selling homes. There is also something special about being the first person to live in a home and putting your personal touches on the design and upgrades. But is it really wise to venture into that new home sales welcome center alone?
As a former new home sales consultant, I can share with you that the sales consultant you will be buying a home from has been trained and instructed to act in the builder's best interest. Pay structures vary from builder to builder, but all sales consultants will be looking out for their employer's best interest throughout the transaction, and they may not always have your best interests in mind. This does not necessarily mean they will be dishonest or mislead you (they should not do either of those things), but they are paid to make the builder money, which means getting maximum dollars from the buyer (you) is their objective.
Before we get into what your Realtor should be doing to help protect you, let me give you a small amount of background to how this process works with new builders. Realtors who are not present with their clients on their first visit to a new home community forfeit any compensation from the builder under most circumstances, and the buyer also forfeits any representation during the buying process. Remember, the New Home Sales Consultant works for the builder, not the buyer. So pretty much all Realtors will be more than willing to take the time to bring you to a new home community and register you with the builder, but not all Realtors will continue to stick around and help you after your initial visit. This is because the only requirement for a Realtor to get paid is being with you on your first visit.
This is where having a good Realtor becomes an asset. A Realtor worth having will do more than just accompany you during your first visit to register you with the builder. A great Realtor will know what questions to ask the sales consultant to ensure you can take advantage of all available incentives the builder is willing to offer. Most builders offer a list of "included features" and may have additional incentives, but they do not always volunteer any other additional incentives that they may have access to give you (often referred to as "back-pocket" deals). Again, their goal is to make their employer, the builder, the most amount of money, which means they would like to get you to spend as much as possible and give you as little discount/incentive as needed to get you to buy. An experienced Realtor can also help point out things you may overlook with regard to lot location, home design, floor plan options, and the design center. New Home Sales Consultants want to get you to buy in their community from what is available, but what they offer may or may not be the best option for you. A Realtor will be able to help you decide if the community and homes available make sense for you, or if there may be other communities or options that are a better fit. This can help you from having buyer's remorse down the road.
Another important aspect a good Realtor can help with is your home loan. New builders often tie their incentives to using their in-house lender. Sometimes this can be a viable option, but not always. It is important to shop your loan and make sure that over the long run, using the new builder's loan company is the right option. Often times, you can find outside lenders who can beat the builder's in-house lender on rates and rate lock fees (sometimes significantly) so it is important to double check and make sure you are making the best financial decision for yourself. Builders can request you to get a pre-qualification from their in-house lender, but legally they cannot force you to use them. A good Realtor will have a couple of good lenders that you can use to check rates against the builder and help you make an informed decision.
Lastly, there truly is no cost to you as the buyer for bringing a Realtor along to represent you. The builder pays a small commission to the Realtor as an incentive for the Realtor to continue to bring them buyers, and it does not come out of your pocket as the buyer. I've had people tell me they think they can get a larger discount if they don't bring a Realtor, however most builders will not pass along a discounted price for coming in alone. Builders tend to rely heavily on Realtors to bring them clients when markets slow down, and they do not want to risk upsetting Realtors by passing savings on to buyers who come in by themselves. Additionally, some builders allow for contingencies, so they need Realtors to help the buyer sell their current home for the deal to go through. So it would not be in the home builders' best interests to cut Realtors out.
Hopefully this article helped shed some light on how important it is to work with a qualified and experienced Realtor when purchasing a new build. Make sure you are working with someone who will have your back and knows how the process of buying a new home works. As a former new home sales consultant, I have a lot of knowledge of how new builders sell and what to look out for as a buyer. Before you walk in alone and forfeit your right to have a Realtor represent you, give me a call and let's discuss your options.
Michael G. Huber
(928) 232-0777