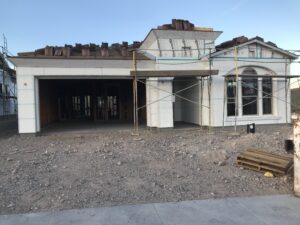 If you're in the market for a new home in Peoria, AZ right now, chances are you have been looking at both resale and new build options due to the low supply of total available inventory. Home builders are popping up new communities all over the Valley, but not all homes are created equally. Today we will look at the reasons why some builders charge more money for their homes than others, and why it is important as a buyer to be aware of the differences in order to make an informed decision.
When looking at new builds online, it is common to be bombarded with savvy tag lines and pretty pictures on each builders website. But dig a little deeper and you may be able to locate what is referred to as "Included Features." Included Features (also known as "Standard Features") refers to what each home in a certain community will come with from the builder at no additional cost. What you will notice is that premier builders almost always give you more expensive included features than cost-sensitive builders. Some examples of high-end included features to look for are listed below:
-2"x6" wood used for framing (versus standard 2"x4")
-Higher standard ceilings heights (10 foot+ ceilings)
-Premium grade appliances (think Wolf, GE Profile, etc.)
-Upgraded insulation (spray foam, blown in cellulose are better than standard batt insulation)
-More expensive counter top options
-Higher grade standard flooring options
-Larger base board molding (5.25 inch is considered premier)
-Better lighting options
-Higher quality and larger windows and doors
-Paver driveways (in lieu of concrete driveways)
-Upgraded front landscaping
New homes that are on the lower end of the price spectrum tend to lack a lot of the nicer included options listed above, while higher priced new homes will include a lot of these features at no additional cost. It is critical to find out what is included in the purchase price of a new home, and what you will have to pay extra to get.
Another important thing to figure out are the design center options. Many price-concise builders will offer minimum amounts of additional options (if any) for buyers to choose from at their design centers. On the other hand, higher-end builders, such as Toll Brothers and David Weekley, are known for offering an array of options in their design centers for buyers to choose from, giving them greater customization of their home.
Additionally, it is important to review the structural options a builder offers. Structural options relate to the physical structure of the property (think doors, walls, plumbing, number of garages). Premium builders will generally give their customers more structural options than price-point builders. When you buy a higher-end home, the builder will usually offer many options for sliding doors and different configurations inside the home, such as several Master Bathroom options (maybe even a super shower!). Cheaper builders offer few (if any) structural options, so you will be limited on how custom you can make your home. Structural options almost always must be completed at the time of signing of your contract, so it is important for you as a buyer to understand what your structural options are, because those will be the first items locked in. These options can't be changed once they are made because they require city approval in most instances, and they are very costly for builders to change. If you are buying a quick move-in (a home already under construction prior to purchase) you will likely not be able to change any structural options, so you need to be aware of that as a buyer as well.
Homes with better features offer a more deluxe living experience, can reduce energy costs for home owners due to the use of better materials and insulation, and will give you a competitive edge over lower quality builds in your area if you decide to relocate and sell in the future. Resale homes from high-end builders generally sell at a large premium because of the quality of the home.
Having an experienced and well-informed Realtor by your side to guide you through the process when deciding on a new home is a huge asset for buyers, and since the builder compensates the agent, it's totally free to take advantage of! As a former New Home Sales Consultant, I am experienced in the building process and well educated in this area of the market. If you are considering buying a new home in Peoria (or anywhere in the Phoenix area), let's connect!
Michael G. Huber | (928) 232-0777 (call or text) | [email protected]