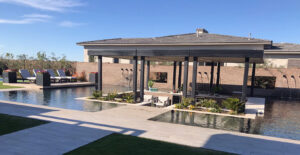 Pools and Arizona go together like Pastrami and Rye; it's hard to have one without the other. But is having your own pool really necessary in Arizona? The answer: not really, but it depends (of course).
With triple digit temperatures the norm in Maricopa County for about 4 months out of the year, it's no surprise that pools are popular in Arizona. But just how popular are they, really? You might be surprised. Most people I talk to who live in other states assume that everyone who lives in Arizona must have a pool, but that's not the case at all! According to a 2019 Study titled "Phoenix Metropolitan Area Multi-City Water Use Study: Single Family Residential Sector" which focused on homes located in the cities of Phoenix, Glendale, and Gilbert, results showed only approximately 1/3 of single-family homes had private pools. That's probably far fewer pools than you thought (I was a little surprised myself!).
So why aren't more people living in homes with pools when Phoenix is so hot 4 months out of the year? One factor appears to be that many new communities are offering Community Pools as one of their amenities for residents. Community Pools are generally private, gated pools that only residents of a certain HOA or subdivision have access to use. Community Pools give residents the ability to enjoy a dip in the water without having to pay or maintain their own pool. Which leads to the next reason not everyone has a private pool: cost. It is hard to build even a very basic pool for less than $20,000. Most pools will cost around double this price (or more) depending on the features, size, and materials used. Additionally, homeowners with pools have to either pay a pool service company to clean and monitor the pools' chemicals, or they have to buy equipment and do the work themselves. This is not going to be appealing or affordable for every household. There is also the issue of safety. Pools are an obvious drowning hazard, and families with small children or pets may be hesitant to own a private pool due to the safety risks.
Although not all households opt to have their own pools, there are still a lot of homes in the Valley that do. There is an array of benefits to owning your own pool. Pools add esthetic appeal to your yard and add value to your home. They also provide a sense of tranquility, and often times they can be seen from inside the home, adding a sense of class and calmness to your outdoor view. And the obvious reason to own a pool of course is the ability to cool off in the scorching summer Arizona heat. Community Pools are shared by all residents of the community and almost always have specific hours of operation, but if you have a pool at your home, you can use it whenever you want, and you do not have to share it with your neighbors! Pools are also a great gathering spot for friends and family, and kids generally want to live in a home with a pool as well.
A popular compromise for some homeowners is what is called a Spool, which is essentially a really large, shallow spa. Spools are gaining popularity because they require less cost to build and are easy to maintain due to their smaller stature, but they still allow privacy and the ability to take a dip on demand. Spools are popular with 55+ homeowners who no longer desire a large pool, but still want some water in their backyard.
At the end of the day, owning a pool is a personal decision that every Arizona Homeowner must decide based on their individual (or family) wants, needs, and situation.
If you are on the fence about purchasing a home with a pool, let's connect and figure out if owning a pool in Arizona is right for you.
(928) 232-0777
Link to 2019 Pool Study:
https://www.documentcloud.org/documents/6681931-2019-Executive-Report-Phoenix-Metro-Household.html