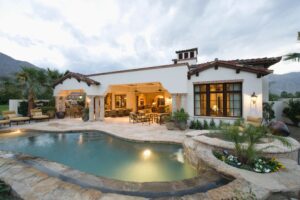 If you have been in the market for a new home in the Phoenix area the past several months, you have no doubt seen homes come onto the market and then almost instantly go under contract within days (sometimes hours) after being listed for sale. And if you have visited some of the new home communities, you've probably been told that if you would like to have the opportunity to buy a home from them, you can enter your name into a lottery or wait list, and then proceed to pray that your name will be the lucky one that gets a call from their Sales Consultant in several weeks (sometimes months). What is going on? Why is this happening? Why is it so hard to purchase a home in the Phoenix area right now? Let me try to give some insight.
The Phoenix area housing market was already pretty hot at the beginning of 2020, with available inventory on MLS below the average level of supply. When the pandemic arrived officially in March 2020, the Real Estate Market, like most industries, was punched pretty hard. At the time, I was working for a new home builder in the valley, and for about 6 weeks we experienced a slew of cancellations on homes that were currently under contract. It was border-line panic mode to keep our backlog in tact. Some buyers were taking an absolute beating in the stock market, others had lost their income and could no longer qualify for a new home, and people were just generally freaking out and not comfortable making a large purchase with the general uncertainty of what had just taken place.
Fast forward a few months to early Summer 2020. The stock market is roaring back to life, the economy is beginning to slowly open back up, and Zoom is the new normal. More companies than ever are allowing employees to work remotely from home, and although there is a slight sense of normalcy returning, people are generally still staying put most of the time at home. This lifestyle change accomplished a couple of key things for the housing market: it allowed individuals to work remotely from wherever they want, and it forced people to re-evaluate their living situation. Families and individuals who just months ago were OK with a small living space are now feeling claustrophobic being stuck at home every day. Gym closures are forcing people to make home work out facilities, and remote working/learning is causing a significant need for office space at home. And yard space has become extremely valuable.
The Phoenix area housing market is still very affordable and carries significantly lower property taxes compared to other markets. There is a large influx of buyers from California, Illinois, and the Pacific Northwest moving to Arizona currently primarily because of cost advantages, amongst other reasons. Arizona is also contains a fairly business-friendly environment, attracting both large and small businesses to the state. Arizona's open space and outdoor-centric lifestyle is also feeding the desire of many quarantined tenants and homeowners to get out and enjoy the outdoors after being stuck inside for months on end. With many employees now free to live wherever they choose and no longer needing to have a home close to work, many people are now exploring new places to live and work from, and Arizona is certainly one of the hot spots for these individuals. We are seeing a trend toward larger homes now, with designated office and gym spaces. Home has become a much more integral part of people's lives since March 2020.
The main problem for the Phoenix market is that supply is simply way behind current demand. Homeowners have been hesitant to list, even with record high sales prices. New home builders are putting up new communities all around the valley, but build times remain around 6-8 months on average, and many builders are struggling to find adequate supplies of labor and materials to decrease their build times.
It is not uncommon to see bidding wars for resale homes, and builders are raising their base prices continuously and cutting incentives in most communities because demand is so strong and supply is so short. Additionally, mortgage rates have remained at record lows, helping fuel the increase in prices. Until we see a drastic increase in supply, or a significant spike in mortgage rates, I have a feeling that the buyer's market will continue to remain extremely competitive in 2021 in and around Phoenix.
Whether you're considering buying or selling, choosing the right representative to work with is critical if you want to maximize your dollars. When you are ready to discuss your options, I am here to help you through the process.
Michael G. Huber
(928) 232-0777